H.R. expert shares tips for how employers and employees can navigate the office holiday without disastrous results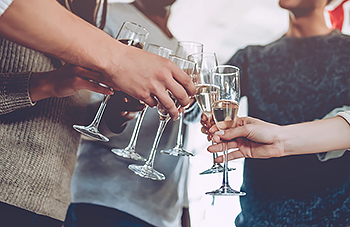 A recent NPR survey found that 1 in 4 Americans confess to drinking too much at the office holiday party…and embarrassing themselves as a result. And, 80% of survey respondents also say that they have witnessed coworkers drink too much at holiday parties and act unprofessionally.
"This is a cultural problem that has been embedded in both our corporate and non-corporate working environments for years," says Rob Wilson, President of Employco USA, a national employment solutions firm which helps companies navigate human resources and other employment concerns. "For some reason, good sense seems to go out the window during the holiday season. Alcohol flows readily and people can't help but let loose…often with disastrous results."
So how does H.R. expert Rob Wilson advise companies and workers to handle these holiday pitfalls in the workplace?
Ban alcohol altogether. "I know this won't be a popular choice," says Wilson. "But it's a wise one. Have your holiday party in the morning and celebrate with hot cocoa and donuts, rather than wine and cheese."
Ask people to give only non-alcoholic gifts. "It's common for people to give wine or fine liquor during the holiday season, but not everyone feels safe around alcohol. Some people are in recovery or don't drink for religious reasons. Whatever the case, it's better to gift non-alcoholic items, such as Starbucks gift cards or homemade cookies or chocolate."
Break the ice. "People tend to drink a lot during office holiday parties because they feel uncomfortable and awkward around their coworkers and colleagues whom they probably don't know very well, at least in a personal sense," says Wilson. "Have ice-breaker games or play Apples to Apples or other popular party games that will get people talking and laughing without alcohol."
Skip the party. "Instead of partying together, why not volunteer together?" asks Wilson. "Find a local charity that needs help over the holidays. A soup kitchen or a food pantry could be a great idea, or even a local animal shelter that needs help walking dogs. This is very in spirit with the holidays and it can be very connective for your employees."
Have an anonymous survey. Use a site like Survey Monkey to form an anonymous survey for your employees. Ask them questions about what kind of party they might prefer, and what concerns they might have. You might be surprised to realize that you have many employees who struggle with addiction and would greatly prefer not being in an alcohol-soaked environment during the holidays."
For more on this topic, please contact Rob Wilson at rwilson@thewilsoncompanies.com.