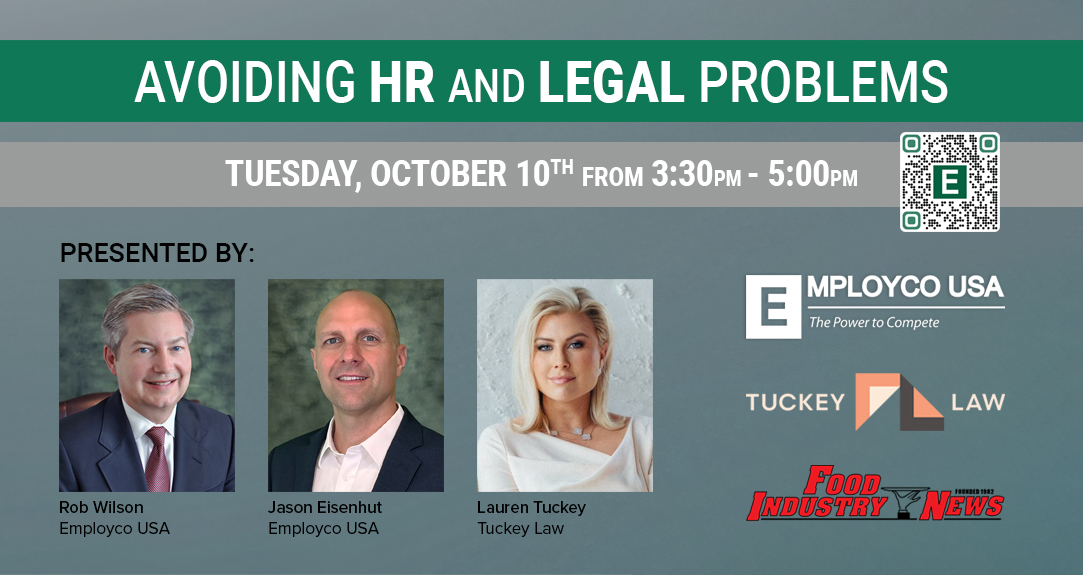 Employco USA and Tuckey Law, in collaboration with Food Industry News, are providing a free HR and legal seminar for registered guests on Tuesday, October 10th at Employco's corporate office in Westmont, IL. Registration is required, space is limited. Appetizers and wine will be provided, parking is free. Read more below for a full list of topics that will be covered. We hope to see you there!
Avoiding HR and Legal Problems
Tuesday, October 10, 2023 from 3:30pm to 5:00pm
Employco, 350 E Ogden Ave, Ste 204, Westmont, IL 60559
---
Are your HR policies in compliance with the law? Have you provided your Illinois employees with the required Sexual Harassment Prevention Training for this year? Are some of the questions you are asking during interviews illegal? Have you begun using the updated Form I-9 that was released on August 1st?
Employco USA and Tucky Law will answer your questions and cover topics such as:
Job Descriptions and Job Ads
Interviewing (including illegal questions)
Job Offer Letters and Agreements (including non-competes and non-solicitation)
Salary History Ban
Drug Testing
Criminal History
Form I-9
Employee Handbooks
Labor Law Posters
Employee Files and Document Retention
FMLA and ADA
Employee Paid Time Off (required by law and company-provided)
Co-workers Discussing Pay, Benefits, Working Conditions
Discrimination and Harassment (including required employee training and responding to EEOC charges)
Equal Pay Act
Minimum Payroll Frequency
Forms of Payment (e.g., forcing direct deposit, pay card, etc)
Classification of Exempt vs Non-Exempt
Biometric Timekeeping
Employee Plan Eligibility
Affordable Care Act
Ability to Offer Different Benefits
Secure 2.0 Retirement Plan Changes
Discipline and Terminations
Progressive Discipline
Manager Documentation and Notes
Required Notices (WARN, unemployment, etc)
Final Paychecks
---
Weeks
Days
Hours
Minutes
Seconds
:
:
:
:
---