Join Employco USA to learn the latest tips and best practices for getting your location and employees ready to return to work.
During this FREE webinar, we'll cover:
Review of federal, state, and local guidance
Advice to assess the risk of your building and processes
Tips to evaluate your workforce including an identification of returning and new employees
Key management tasks after reopening
You'll also be able to get some clarity on human resource issues including unemployment and payroll. Employco provides HR and payroll solutions to businesses across the country.
There will be a brief presentation to begin the session, but most of the time will be dedicated to answering your specific questions!
FREE REGISTRATION
You'll be able to join us at 1:00pm CT on Wednesday, June 3rd from your computer, tablet, or smartphone (you can also dial-in):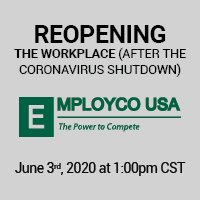 You can also use our registration form to submit questions you'd like to see answered/covered during the webinar.
---
For the latest material regarding COVID-19 and how it relates to the workplace, check out: www.employco.com/coronavirus
Please contact us if you have any questions.