A human resource and employment solutions firm, Employco USA is pleased to announce the growing expansion of its staff.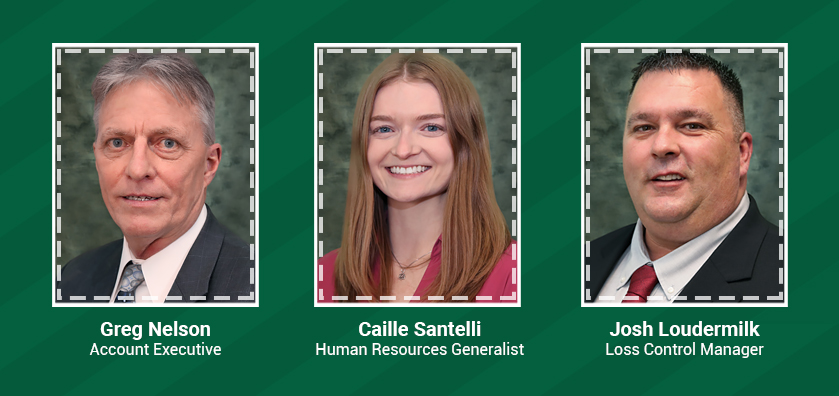 Employco's newest team members include:
Greg Nelson, Account Executive – Greg comes to us with decades of success with attracting new business and managing key client relationships. He will be responsible for sales and business development for Employco.
"Joining Employco is a very exciting step in my career. I was very impressed with the flexibility Employco has when dealing with clients; customizing solutions to meet the needs of the company with a dedicated staff to make that happen." -Greg Nelson
Caille Santelli, Human Resources Generalist – Caille is a creative, enthusiastic and driven addition to our team. She will be responsible for HR and benefits support for clients.
"I am delighted and eager to join the Employco team! I am really looking forward to working with different types of businesses/clients, and having a collaborative work environment. Most importantly, I am excited to work with (and get to know) such a knowledgeable group of people." –Caille Santelli
Josh Loudermilk, Loss Control Manager – Josh brings a highly coveted skill set to our team, combining years of loss control experience with a true passion for client service and care. Josh will be responsible for loss control, safety, and client services.
"I look forward to expanding my skillsets with an innovative company that will encourage me to strive in serving both our internal and external guests. Employco delivers just that, industry leading solutions and guest services in an ever-changing environment. I am excited to be part of an amazing team of professionals – with a company that values their colleagues." -Josh Loudermilk
---
For more information, please contact Rob Wilson at (630) 286-7345 or robwilson@employco.com.
About Employco:
Headquartered in Westmont, Illinois, Employco provides employer management and human resource outsourcing, as well as a number of other administrative and progressive employment techniques. With our national reach, we work to lower costs while improving the performance and productivity of clients in every industry; from construction and manufacturing to retail and technology.
Visit us at:
www.employco.com
www.linkedin.com/company/employco-usa-inc-

---
Update, 04/29/2021: Announcement featured in Exhibit City News, "Employco Welcomes Greg Nelson, Caille Santelli & Josh Loudermilk"