Employment expert explains why it's illegal in many states to ask about past salary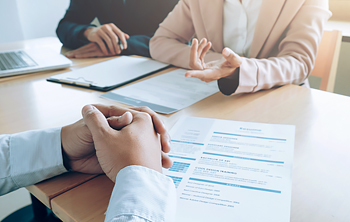 Several cities and states have banned the infamous "salary history" question from the interview process, including California, Delaware, Massachusetts, New York City, New Orleans, and many more. But, why is this question being banned, and what do employers need to know in order to protect themselves?
"Part of the thinking behind banning the salary history question is that it will help to minimize the gender pay gap," says Rob Wilson, President of Employco USA and Employment Trends Expert.
The belief is that inquiring about salary history can create a vicious cycle in which women are paid less presently and in the future, simply because they were paid less in the past. Concerned civil rights activists point to the fact that women are offered less when compared to similarly trained and educated males, even when these interviewees are coming right out of college.
"In other words, social justice activists want to reverse this trend by wiping that question off the interviewer's docket," says Wilson. "And, interviewees who lie or fudge their past earnings do so at their own peril: It is possible for employers to discover your salary history, as some employers ask for W-2 forms or pay stubs to confirm your compensation, or they might ask you to sign a form to permit them to ask your employer about your past earnings."
Wilson says that people also say asking about salary history is unfair when it comes to employees who are moving from a city with a lower cost of living.
"For example, if a Chicago-based employer asks someone who lives in rural Indiana about their salary history, it could be seen as problematic because that employee is going to be faced with the high cost of city living although they are going to be receiving compensation based on their previous low cost of living," says Wilson.
So, what should employers do?
Revise and review on a periodic basis.  It is always a good idea to review what each job title in your company earns elsewhere in the marketplace, regardless if the position is open or currently filled. "At a minimum, I recommend obtaining new salary survey data for each open position," says Wilson. "This provides the current market rate for the position and what the employer can expect to pay for average vs all-star talent."
Be transparent about salary whenever possible. "If you're going to pay within the market average, consider advertising the salary range to the candidates," says the employment expert. "Demystifying what you intend to pay the chosen candidate will help to foster an environment that is immune to criticism and charges of inequality."
Get clear on candidates' expectations. "Ask candidates early in the recruiting process for their compensation goals," says Wilson. "Asking 'What is your salary target?' is an invaluable and simple question which is beneficial to both parties. In situations where candidates are looking for more than you feel they are worth, it will save everyone's time if there is a significant discrepancy."
For more on this topic, please contact Rob Wilson at rwilson@thewilsoncompanies.com.