Employment expert explains why Illinois employees can't be asked about their past salaries any longer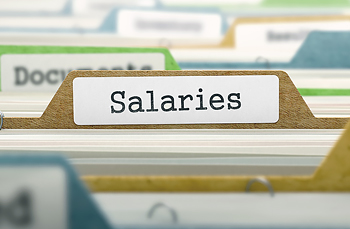 Employers in Illinois will be required to make changes to their hiring practices in the near future. Starting September 29th, it will become illegal for employers to ask prospective employees to share their salary history.
"Currently, 17 states and 19 localities have banned questions about salary history during the application process, and Illinois will be joining these ranks shortly. Several states like Alabama have banned these application questions for all potential employees, and other states like California go so far as to require employers to provide pay scale information if employees request it," says Rob Wilson, employment trends expert and President of Employco USA.
Wilson says that many experts agree that salary history questions can lead to income inequality for women and minorities.
"The belief is that inquiring about salary history can create a vicious cycle in which women are paid less presently and in the future, simply because they were paid less in the past," explains Wilson. "Concerned civil rights activists point to the fact that women are offered less when compared to similarly trained and educated males, even when these interviewees are coming right out of college."
So, what should employers consider moving forward?
"You need to update your interview materials across your organization and make sure that hiring managers know which questions will be off the table in the near future," says Wilson. "This is especially important if you have locations in different states, as each area has different laws regarding what can and cannot be asked in a job interview."
Wilson also says that it is important to stay abreast of salary comps for each particular position in your company, including how that changes based on an applicant's education and experience.
"That is why working with an employment solutions firm like Employco can be so invaluable, as we have information like this at our fingertips and can easily calculate fair salaries in every industry," says Wilson. "It takes the stress and guesswork out of salary decisions for employers, both when they are hiring new applicants and when they are determining raises and bonuses."
Here, the employment expert also shares the below tips for employers who are seeking new methods for navigating salary concerns:
Revise and review on a periodic basis. "It is always a good idea to review what each job title in your company earns elsewhere in the marketplace, regardless if the position is open or currently filled. "At a minimum, I recommend obtaining new salary survey data for each open position," says Wilson. "This provides the current market rate for the position and what the employer can expect to pay for average vs all-star talent."
Be transparent about salary whenever possible. "If you're going to pay within the market average, consider advertising the salary range to candidates," says the employment expert. "Demystifying what you intend to pay the chosen candidate will help foster an environment that is immune to criticism and charges of inequality."
Get clear on candidate's expectations. "Ask candidates early in the recruiting process for their compensation goals," says Wilson. "Asking 'What is your salary target?' is an invaluable and simple question which is beneficial to both parties.  In situations where candidates are looking for more than you feel they are worth, it will save everyone's time if there is a significant discrepancy."
For more on this topic, please contact Rob Wilson at rwilson@thewilsoncompanies.com.