Lawsuits surge as employees say employers aren't doing enough to protect them from COVID-19. HR expert Rob Wilson explains the legal duties employers have when it comes to COVID-19 protections in the workplace.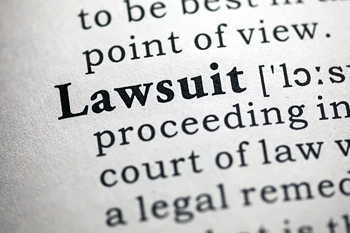 New data shows that workplace lawsuits are on the rise as thousands of employees are filing COVID-19 related claims against their employer. From claims that allege their employer didn't put proper COVID-19 precautions into practice in the workplace to claims that ill workers were not permitted appropriate leave, it's clear that employers need to be better educated about their responsibilities for creating a COVID-19 compliant workplace.
Rob Wilson, employment trends expert and President of Employco USA, says that employees are suing companies for not providing PPE, for not implementing temperature checks, for not requiring customers to wear masks, and for not adhering to proper cleaning and sanitation protocol.
"This is brand-new territory for all of us, and, understandably, some employers are struggling to keep up with the many precautions needed to keep the workplace safe from COVID-19," says Wilson. "It doesn't help that precautions are always changing—for example, COVID-19 quarantine protocol has shifted in recent months, and we expect that regulations will only continue to become reconfigured as the vaccine rolls out."
Wilson says that despite the fact that the coronavirus and its accompanying precautions are never in flux, that does not remove an employers' legal requirements to ensure a safe workplace.
"OSHA requires that every employer creates a workplace that is 'free from recognized harms that are causing or are likely to cause death or serious physical harm.' COVID-19 falls under this umbrella," says Wilson.
Here Wilson outlines some important precautions that employers need to follow in the workplace:
Improve your social distancing plan: "Consider how you can create more distance between employees. This may mean rethinking employee travel patterns (creating one-way hallways, moving desks, rearranging the copy room, etc.), or creating staggered shifts and breaks."
Sanitize more often. "High-touch areas must be sanitized frequently. This includes elevator buttons, cash registers, lobby desks, and more. You may consider investing in Step-and-Pull door openers to decrease germs on door handles," says Wilson. "You also need to have disposable masks on hand for employees and also for clients, and you must be vigilant about asking everyone to wear one as well as to wear them appropriately (with the mask over their nose and mouth, not on their chin)."
Create a plan for COVID-19 positive cases. "Don't wait until you have a positive case in your workplace to begin implementing workplace guidelines. Make a COVID-19 plan right now. What will you do if a worker tests positive? How will you clean the workplace and notify other employees and possibly your clients?
You should also consider how you will handle employees who present with increased temperatures. Many companies take temperatures of workers as they enter the building, but make sure you have firm guidelines for what is considered a high-temp and how you will handle this situation. Also note that some conditions like rheumatoid arthritis, cancer, and lupus can cause elevated temperatures, so you will need HIPAA-compliant procedures that will take this into account."
Monitor employees' health and exposure risk daily. "Have your employees sign a quick form each day which measures their exposure risk and enquires about any travel history, such as whether they have experienced a high temperature recently (or any other COVID-19 symptoms), whether they have been around anyone who has COVID-19 or suspected to have COVID-19, or whether they have traveled out of the state or out of the country in the past 30 days," says Wilson.
Consider the needs of your staff. "You may want to implement hazard pay for high-risk employees. You may also want to consider allowing flexibility as far as working from home or modifying schedules."
For more on this topic, please contact Rob Wilson at rwilson@thewilsoncompanies.com.