Human resources expert Rob Wilson offers expert commentary on upcoming changes to employment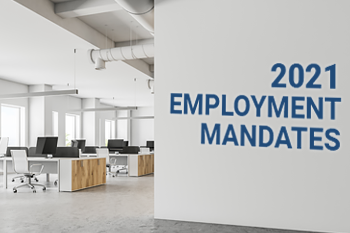 As we enter almost a year of the COVID-19 shutdowns as well as the first full month of President Biden's tenure in the White House, employers should prepare for significant changes coming down the pipe in the next few months.
Rob Wilson, President of Employco USA, a national employment solutions firm, says that not only will President Biden make several substantial changes to employment regulations, but the focus of this administration will be vastly different than when Trump was in office.
"Trump focused heavily on things like deregulation. But now we're going to see a focus on things like gender equality, pay transparency, and collective bargaining rights," says Wilson, employment trends expert.
Here are some of the upcoming changes that Rob Wilson says we can expect to see in the workplace under President Biden's leadership:
Anti-discrimination crackdowns. "Biden's Equality Act prohibits discrimination based on sexual orientation and gender identity. What this means for employers is that they have to ensure that all of their employees feel safe and validated in the workplace. This means allowing transgender people to use the bathrooms of their choice, and to require coworkers and managers to use their preferred names and pronouns or face penalties."
Minimum wage hikes. "President Biden is putting a focus on raising the minimum wage to $15 an hour, and he also wants to eliminate the inclusion of tips when it comes to creating this wage. Under Biden's administration and a Dem-controlled Senate, we expect to see an incremental increase in the minimum wage over the next few years."
Changes to overtime. "We expert that the Biden administration will focus on increasing the salary requirements for overtime. By upping the minimum salary under FLSA's 'salary level test,' more employees will become eligible to earn overtime."
Stricter requirements to prevent gender pay disparity. "Under the Paycheck Fairness Act, President Biden and his team are trying to enforce greater pay equality. The Paycheck Fairness Act seeks to ensure that male and female employees receive the same compensation for the same work."
Compensation transparency. "In conjugation with the above, as part of an effort to support gender and racial equality, employers will be banned from prohibiting or discouraging wage discussions among their staff. If the act goes through, employers will also need to report compensation data to the EEOC based on employees' sex, race, and nation of origin."
More OSHA crackdowns. "As we head into almost a full year of this pandemic, we expect that 2021 will see many employers facing OSHA fines and penalties. Biden just signed an executive order calling on OSHA and MSHA to consider implementing emergency temporary standards and to take a proactive approach to protecting workers' health from the risk of COVID-19 while on the job. OSHA has already responded by updating their COVID-19 guidelines for employers."
Stricter measures against sexual harassment. "As of June 1, it will be legally required for employers to have a written policy against sexual harassment. In addition, employers must show that they are making every effort to keep their workplace free from bullying and harassment, such as by offering education and resources to help prevent this behavior as well as empowering victims to step forward if sexual harassment does arise," says Wilson.
Increasing federal leave for families. "President Biden has been a strong supporter for the FAMILY Act, which would require up to 12-weeks of paid family and medical leave for federal employees."
Strengthening the ACA. "Biden is proposing adding a 'Medicare-like' option to the ACA to offer consumers who need health insurance. He also wants to enable Americans to be able to purchase their own private health care plans and to lower the income rate on those plans."
Stronger collective bargaining. "We expect that more pro-union mandates will be headed our way under a Biden administration, as he did vow to be the most 'pro-union president you have ever seen.' Biden wants to strengthen collective bargaining protections, and to that end, he has fired Trump's Secretary of Labor and his deputy, both of whom had a reputation for challenging union rights."
For more on this topic, please contact Rob Wilson at rwilson@thewilsoncompanies.com.