Employment trends expert weighs in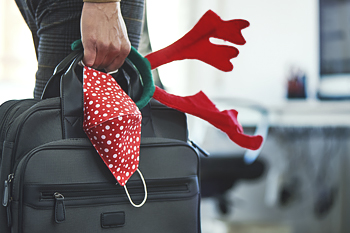 With the COVID-19 pandemic more under control, many offices are considering the idea of bringing back holiday parties. But, how can you safely host an office party during a pandemic, and are the risks worth the camaraderie?
"Our internal research has shown that many of our clients are going to do a holiday party this year. They're very eager to start building connections between their staff again, and to bring back some cheer to the office after such a dark time," says Rob Wilson, President of Employco USA and employment trends expert. "But hosting an office party right now can be difficult. There are several factors that companies need to consider before they start planning a party, big or small."
Wilson says that the first thing companies need to focus on is employee retention.
"Employees are quitting at rapid rates in industries across the board," says the human resources expert. "If you're considering an office party, I would advise you not to do so at the expense of giving your employees a generous bonus. Or, even extra days off to help them celebrate the holiday season. Office parties can be good at boosting morale and building employee connection, especially after so many months of working virtually, but almost every single employee would rather have a bonus or a raise over a party. So consider your funds and utilize them wisely: Anything you can do now to retain talent is key."
Wilson says that office parties should adhere to local and state ordinances because right now, any mask violations or similar COVID violations can easily go viral.
"All it can take is one picture posted on Facebook of your unmasked coworkers at a party, and you could be looking at irreparable damage to your reputation," says Wilson. "There are a lot of critical eyes watching your decisions, even if you are a small business. So be very mindful about what the public perception of such a party might be."
To that end, Wilson encourages companies to consider outdoor parties, if the weather allows.
"Yes, it's cold, but with heaters and 'igloos,' outdoor events can still be a lot of fun," says Wilson. "If that's not possible, keep your indoor party as small as possible. Ask people not to bring any guests, not even their spouses or kids. And keep food and drink to a minimum. The more people have to drink, the more risks they're going to take and the less they will follow CDC guidelines for social-distancing and mask-wearing."
Wilson also advises companies to nourish holiday cheer and camaraderie by hosting a coat drive or food drive for a local organization in your neighborhood.
"Ask your workers to bring in gently-used clothing, food, or home goods to donate," says Wilson. "Focusing on the reason for the season instead of focusing on partying will be an effective way to help your coworkers feel bonded and as though they're working for a good cause."
For more on this topic, please contact Rob Wilson at rwilson@thewilsoncompanies.com.