Human resources expert reveals why so many companies struggle to keep new employees – and how to change that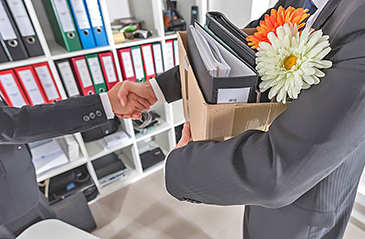 A new study found that over 20 percent of people quit their new positions within the first 6 weeks of joining a company. Furthermore, the new research from Robert Half found that 93 percent of new employees consider leaving their jobs before the end of their probationary period.
"The results found that 36 percent of people leave their jobs due to issues with 'onboarding,'" says Rob Wilson, President of Employco USA and employee engagement expert. "Yet many firms neglect to put much effort into acclimating their employees to their positions."
Losing a new employee can be a financial hardship, thanks to the cost of recruiting and training employees, and it also creates a workplace that feels unstable and tense for existing employees.
"A revolving door of employees is a problem for a number of reasons," says Wilson. "It increases the risk of fraud and other crimes, but it also makes employees feel as though newcomers aren't going to stick around long…ergo they aren't very welcoming or very thorough in their training, as they figure it's a waste of time."
Wilson also points to the fact that searching for employees is very time-consuming and leaves other important tasks unfinished. "A human resources team who is constantly focusing on finding new employees is doing so at the cost of caring for the needs of existing employees."
So, what should companies do in order to ensure that their new employees stick around for the long haul?
"Workers want to feel like they are joining a team, a team which is excited and eager about their arrival," says Wilson. "That is why on-boarding is so important: Not only because employees are learning the ropes, but because they feel like they are being seen as human beings of potential, and that they are being built up for optimal success."
The employee engagement expert says that on-boarding should be done with intention and foresight.
"You should chart out your employee's first 90-days with the company," says Wilson. "You want to integrate them into the firm via social engagements, in-office mentoring, and team building exercises."
Wilson also says that company-wide activities like pizza parties or charitable efforts can help to boost morale and create a feeling of family amongst coworkers.
"Taking a half-day each year to go volunteer at a soup kitchen is a small and inexpensive way for employers to improve their community and their company," says Wilson.
The President of Employco USA also says that compensation needs to be comprehensive and geared towards the needs of today's workers.
"From an economic standpoint, you need to think in terms not only of salary and health insurance, but also a total compensation package," says Wilson. "There are many benefits which today's employees are looking for, including whether you match a 401k, what is the value of the paid time off offered, along with medical, dental, vision and life insurance."
Wilson also says that many companies are also now thinking outside the box when it comes to offering benefits to employees. "We work with firms which offer pet insurance," says Wilson. "Which might sound funny, but it is actually a major item of interest for interested applicants. Most Americans have pets and consider them part of their family, so offering insurance for these critters can go a long way in showing that you are a compassionate and concerned employer."
Wilson also says that companies should consider offering tuition reimbursement plans, or paying a small amount each month towards the employees' student loans. "Today's young people are coming out of college with massive debt," says Wilson. "And firms which are dedicated to paying off these loans alongside their team will be a top contender."
For more on this topic, please contact Rob Wilson at rwilson@thewilsoncompanies.com.