Human resources expert Rob Wilson weighs in on COVID-19 vaccines and the workplace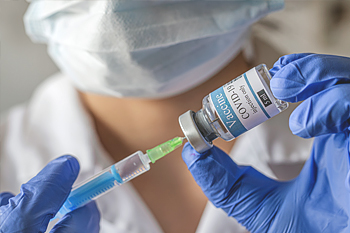 Qantas Airlines made global news this week when their CEO said they would require international travelers to be vaccinated for COVID-19.
"It's called a digital vaccination passport, and we are expecting many airlines will follow suit and require their passengers to submit proof of their immunization," says Rob Wilson, President of Employco USA and human resources expert. "Of course, this means that not only will internationally-bound passengers on Qantas Airlines need to be immunized,  but so will their employees."
This raises one of the most pressing and complicated human resources issues of our time, says Wilson. Can employers require their employees or prospective employees to be vaccinated if they want to retain or attain a position at their company?
"Well, the short answer is yes," says Wilson. "There is a precedent that has been set which allows for healthcare employers to require their medical staff to be immunized, and the same is true for those who work in the armed forces or in certain federal or state jobs. But, until now, most employers outside of these branches have not issued company-wide requirements for immunizations."
However, Wilson says, that's about to change.
"In the past, having a few odd workers out for flu season wasn't a massive concern for companies," says Wilson. "So, for example, there wasn't a real need for employers to insist upon workers getting the flu vaccine. But, now, if a company has a positive COVID-19 case, not only is that a serious health concern, but you could be looking at shutting down your location for 2 weeks or more for sanitizing. It is a serious liability, not just financially but also when it comes to alerting your staff and customers and making sure you're doing your due diligence to protect everyone under your company umbrella."
It's much easier and safer to require a vaccine, and Wilson says employees should expect that to happen within 2021.
"You're going to start seeing company-sponsored injection sites and reminders about being vaccinated by a certain date," predicts Wilson. "Some employers may just stick to sending strongly worded emails or heavily encouraging people to get vaccinated, but if you work in a front-line industry or in a large corporation, it's going to be required of you."
That raises the question: Is there any way that employees can refuse a vaccination?
"The American Disability Act does allow for employees to abstain from vaccinations due to their medical history," says Wilson. "Although we don't yet know if the vaccines have any side effects or could be of concern to any particular population, I think we're going to see some employees relying upon the ADA to back up their arguments for why they don't want a COVID-19 vaccine. Employers need to be prepared for that and consider how to navigate that issue without infringing on a worker's privacy because employees do still have HIPAA rights."
Wilson says religious exemptions will also apply.
"Depending on the state you reside in, it is possible your workers will be able to deny vaccines due to their strongly-held religious beliefs and/or due to philosophical or moral beliefs. This is worded differently based on where you live, but basically, it offers a little bit of wiggle room," explains the human resources expert. "Again, employers will have to tread very lightly here. If your employee demonstrates a sincere faith-based or moral-based objection to vaccinations, you might not be within your rights to require vaccinations from that particular employee."
With this in mind, when should employers start putting their vaccination requirements into action?
"Now," says Wilson. "Now is the time to start thinking about this thorny issue and getting your legal and human resources teams on the same page. You may even want to outsource this issue to a company like Employco, because we are expecting a lot of employees to be angry and frightened at the prospect of forced immunizations. Employers need to expect this to be a bit of a headache, and the sooner they get a plan in place, the better.
On December 10th, the FDA will meet to discuss the emergency use authorization that Pfizer submitted last week. Following the FDA's ruling, the CDC will meet within 24 to 48 hours to discuss plans to release the vaccine for public administration. And Moderna and AstraZeneca will follow this same route shortly with their COVID-19 vaccines, meaning that the general public can expect to begin receiving these vaccines by spring 2021, with high-risk populations having the potential to access these vaccinations even sooner.
"Spring will be here before you know it," concludes Wilson. "And with it, we are expecting a return to normal, but a new normal…one that's going to require serious adjustments from every workplace."
For more on this topic, please contact Rob Wilson at rwilson@thewilsoncompanies.com.